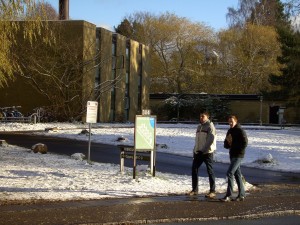 About the dormitory
The Nybrogård Dormitory consists of yellow two level buildings constructed in 1970 and is situated in Kongens Lyngby between Bagsværd Lake and Lyngby Lake. It is in cycling distance of DTU as well as Lyngby station, so you have good means of public transportation to other educational institutions in Copenhagen.
The dormitory consists of 536 dormitory rooms and apartments. The rooms are divided in 18 corridors containing 26 rooms each, while the apartments are situated between the corridors and with their own entrance.
Read more about the Nybrogård Dormitory under Presentation.
Address
Nybrogård Kollegiet
Nybrovej 304
2800 Kgs. Lyngby
Telephone: +45 45 87 04 73
Fax: +45 46 97 40 10
E-mail:
Search within nybro.dk